Version 2.38 du 12/05/16
http://sourceforge.net/projects/asymptote/files/2.38/
Release Notes for Version 2.38

An integer division operator # was added.
Control points in xasy are now correctly parsed.
Longitudinal splitting in the revolution structure of the solids module was fixed.
Portability fixes were implemented.
The ncurses library is now only required with --enable-readline.
A --disable-sigsegv configuration option was added.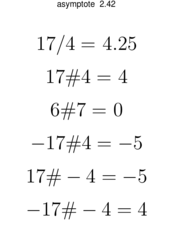 *** Pour masquer/découvrir le code Asymptote qui a permis de créer la figure, il faut cliquer dessus. ;-) ***
CODE ASYMPTOTE de la figure ci-dessus : Tout sélectionner

size

(

7cm,5cm,

IgnoreAspect

)

;

label

(

"$17/4 =$ "

+

string

(

17

/

4

)

,

(

0

,k

)

)

;

label

(

"$17\#4 =$ "

+

string

(

17

#

4

)

,

(

0

,

--

k

)

)

;

label

(

"$6\#7 =$ "

+

string

(

6

#

7

)

,

(

0

,

--

k

)

)

;

label

(

"$-17\#4 = "

+

string

(

-

17

#

4

)

+

"$"

,

(

0

,

--

k

)

)

;

label

(

"$17\#-4 = "

+

string

(

17

#

-

4

)

+

"$"

,

(

0

,

--

k

)

)

;

label

(

"$-17\#-4 = "

+

string

(

-

17

#

-

4

)

+

"$"

,

(

0

,

--

k

)

)

;

shipout

(

bbox

(

.5cm,

Fill

(

white

)

)

)

;